Vance and Tanja Golomeovi
Vance Golomeov has been in Christian ministry for over 25 years across the Balkans.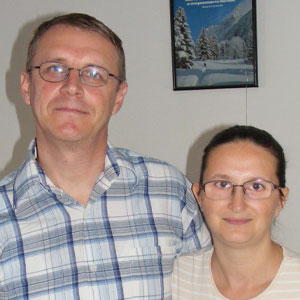 In 1993 while he worked as a clerk in Shtip, he noticed one of his co-workers reading the New Testament. She shared the Gospel with him and within six months Vance gave his life to Christ.

His parents were not believers and disowned him, which was hard. Vance moved to study at Bible School in Osijek, Croatia, before serving God in Bosnia and Herzegovina for almost ten years.

He married Tanja in 2005, and they returned to North Macedonia in 2006, where he got involved at Shtip Evangelical Church. He regularly worked with ex-drug addicts, taking time to patiently listen to their problems and minister to them.

He became a deacon and later an elder at the church and helped with the church plant in Sveti Nikole. In June 2021 he moved with his wife and family (daughter and two sons) to Pozarevac in Serbia where he currently serves at Pozarevac Evangelical Church. He leads the Tuesday evening church prayer meeting, has a one-to-one ministry and helps with the weekly homegroups.