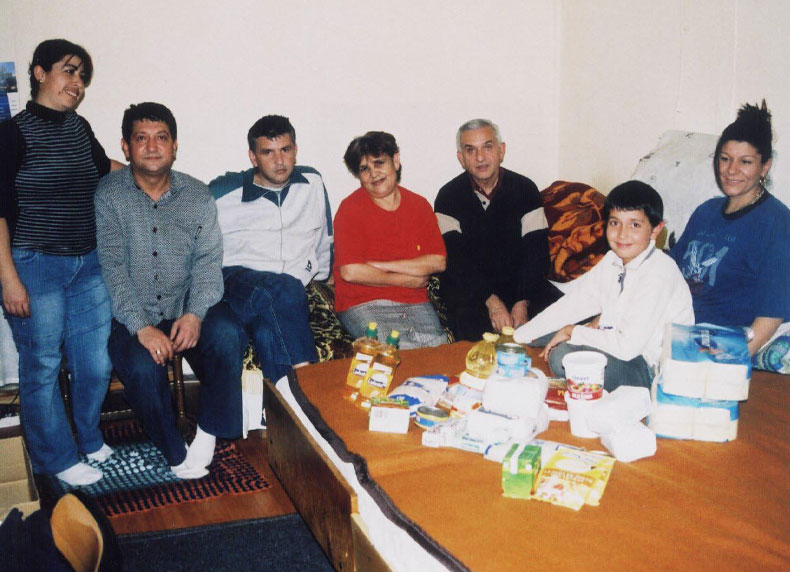 Family in Croatia with Food
In the early years, TEN sent articulated trucks out each year from the UK, each one holding 2,000 parcels.
Derek explained: "In those early days, in many Eastern European countries there literally was no food on the shelves. So, getting bread, tinned food or goods was very hard. Plus, if you tried to transfer money, funds were often held in banks for months and in some cases disappeared!
"Over time, as the countries moved from their Communist bases, and food became more readily available, it was often much better to send funds to partner churches who could literally buy goods from the local market, thereby supporting local farmers and suppliers, and we would not have the expense of sending trucks across the continent."
"Sadly I fear HfTH will be even more needed this year, and in the following years."
Now retired, Derek focusses his attention just on the Kettering area. This year he is encouraging every church and school to take part in TEN's 30th anniversary appeal—especially because of the impact of Covid and the war in Ukraine on neighbouring eastern European countries where in some cases, inflation has risen to over 30% (Moldova).
Derek concluded: "When I started HfTH I had no idea that thirty years later it would still be needed. But with the similarities between what we started with in Bosnia and Kosovo, and the current invasion of Ukraine, and the impact that is having on all eastern European countries, sadly I fear HfTH will be even more needed this year, and in the following years.
"That very first year in Zagreb, someone said to me 'we are so grateful you brought these parcels. I trotted out 'Oh, it's only a drop on the ocean with these parcels.' But he came straight back with 'Yes, but we are holding out our buckets for these drops.'"
---
by Revd Paul Eddy
---
We hope you have been inspired by Derek's story. We are really grateful for his pioneering work which established Harvest for the Hungry and has enabled us to bring hope through Harvest. Above all, we praise and thank God for the thousands of people whose lives have been transformed as our partners in Eastern Europe and the Balkans share the good news and Jesus in word and deed.
Can you support Harvest for the Hungry this year?