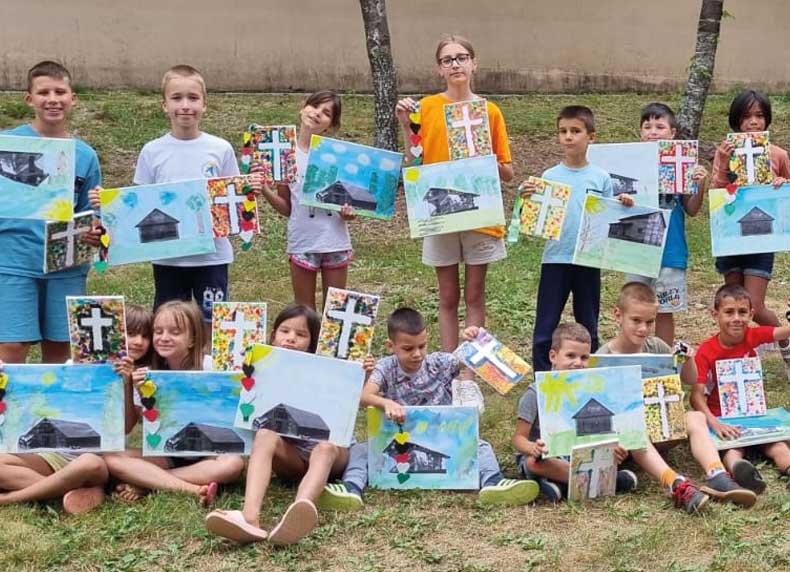 Children showing their artwork at Camp Fokus
This summer, James Vaughton and Lucy Reid took a team of three young adults to Croatia to help our partner Vjeko Mrsic of Good News Church Split lead Camp Fokus in the Croatian mountains.

The week's theme was Super Daddy and its aim was to share God's father heart with primary school-aged children. The TENteam worked alongside youth pastor, Robi Atlija, Vjeko and his wife, Josipa as well as a group of Croatian teenagers from the church. Here's how they got on:
Madeleine Jefferis
Camp Fokus with TEN was by far one of the best experiences I have had and something I am grateful to have been a part of. The team only met just before flying out to Croatia, but during the trip I found that me, Hannah and Olga all got on really well and by the end of our time there, we were really good friends.
I found that the trip gave me many opportunities to practically serve, whether it be through cleaning the cabins before the children arrived, washing up after meals or running games for the children to play. The trip also allowed me to see the impact that sharing the gospel can have but also showed me the importance of things such as spending time with others, listening and talking with them and learning about their life stories and experiences.
Hannah Murray
I've been having a gap year and I have been looking for some mission trips to get involved with. I heard about the trip and thought it was a really great opportunity. It's been really good. I've learned a lot about language barriers and how to overcome them, and I've loved planning the games and going to the evening and morning sessions as well.
Olga Nechyporuk
At Camp Fokus, we looked after kids, planned games, helped to do some interesting chores and enjoyed the Croatian countryside. We were trying to open up the Bible and God to children in Croatia. Some of them are Christian or from Christian families but some aren't. Some just came because their friends were going. We were trying to tell them what is the Bible and trying to open up the reality of Jesus and God; that there is someone who loves and cares for them. The highlight was the waterslide!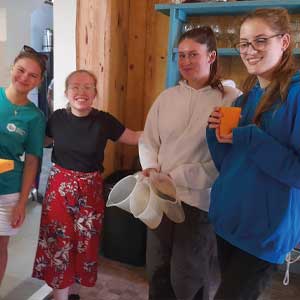 Are you available for a week in 2024? Do you want to join a TENteam trip such as a summer camp in the Balkans or Eastern Europe? If so, we would love for you to get in touch.
If you would like to support our partners in sharing the love of God in person, contact Lucy and Melanie at tenteams@ten-uk.org or call on 0117 961 5161.