Mile, Katerina, Ivan, Robert, Michael, Ken & Petre enjoying a hot meal in Stip
By Ken Millwood, TEN Partners Officer
"And we know that in all these things God works for the good of those who love him, who have been called according to his purpose." Romans 8:28 NIV
I rediscovered the truth of this verse during my recent trip to North Macedonia, as some things did not happen as planned, but overall, it worked out better than expected.
To give you an example, on the first night when a supporter and I arrived in Radovis at midnight, we discovered that the hotel we had booked did not have any rooms left. So, the partner we were visiting rang his wife, who arranged beds for us, and we stopped with his family during our stay. This gave us more time for fellowship and an opportunity to enjoy some home-cooked meals!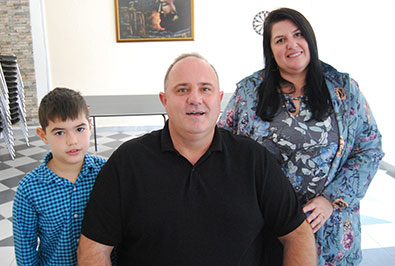 The trip began with a visit to Robert and Krasi Salamanovi. I was joined by Michael, a supporter from International Miners Mission (IMM). We wanted to see Roberts's church ministry and learn about his ministry to the local miners.
Robert and Krasi started the Evangelical Church in Radovis in March 2021. Already they have fifteen regulars at the Sunday services and ten at the Wednesday prayer meeting. This includes Daniel who in the past eighteen months has been set free from methadone addiction, was baptised in March, and now leads worship in the church. An incredible testimony of God's grace in action.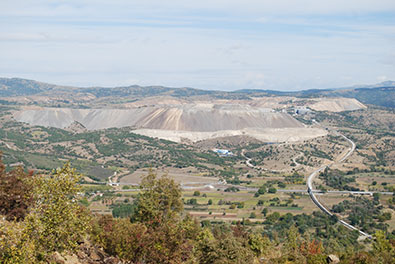 Three days in, we drove out to Buchim Mine, which is 15km away, but were refused entry, so the best we could do was to view the huge site from the hillside.
But it was during the drive into the hills that a special moment happened. At one point we stopped for Michael to get out and take photos of the mine. Robert spontaneously started singing How Great Thou Art. I joined in and for just a few minutes we were simply two brothers in Christ singing the same hymn, in different languages, united in worship of our Creator and Redeemer.
Later that day we attended a barbecue with a local miner Robert knows and found out more about the mining operation. It opened in 1979 and produces about 3,000 tons of copper concentrate, 50kg of gold and 100kg of silver per month. A new site at Borov Dol two kilometres away will ensure copper production continues locally until at least 2030.
The next day, Robert drove us to Stip, about 30km away and we met with Petre Petrov, the senior pastor at Stip Evangelical Church and President of the Evangelical Church in Macedonia, a role he was appointed to in 2021 after the previous leader sadly passed away from Covid. TEN provided funds, along with various other donors, for the church to be totally refurbished, so it was lovely to see the completed two-storey building and all the work they have done to modernise it and the grounds outside. The main sanctuary looked clean and fresh, there were various smaller meeting rooms, and a small apartment to host visitors.
I also met with Mile and Katerina Kolevi, who recently moved to Stip. Mile is the leader of Royal Rangers in North Macedonia and Katerina works for Student Evangelical Association of Macedonnia (SEAM). I could hear the excitement in Katerina's voice as she looked forward to reaching the students at Stip University with the gospel. We all went out for a hot meal – a lovely way of sharing fellowship!
Afterwards, Michael flew home, and I travelled on to Nis, Serbia to spend time with friends who work for Child Evangelism Fellowship (CEF). Sadly, I was ill with a chest infection while I was there. In an answer to prayer my friends obtained antibiotics for me and my health improved from that point. I visited the CEF office in Nis, met some of the staff, and saw some literature and Bibles being printed.
After four days, I returned to North Macedonia, where partner Emil Puzderliev met me and drove me to Struga. Emil and his wife, Vesna moved to Struga in November 2014 and by God's grace and provision, secured their current church building in the town centre a few years later. They now have fifteen to twenty regularly attending the Sunday service and their vision is, "to see the church full of people, to see disciples who will make other disciples (2 Timothy 2:2)". Emil and Vesna's desire are to have helpers who can start other ministries so they are not running everything, such as ministry to women and young people.
While in Struga, I was joined by Tom Harflett (TEN Country Champion for North Macedonia). Tom had just come to the end of a trip with members of his own church to visit their church partners in Bitola.
During my trip I had the privilege of preaching four times in three different churches. The evening of my first day in Struga, I shared a message from Luke 11:9-10 about prayer; how we should ask, seek, and knock. At the end of the message Emil came up to me excitedly and pointed to a scripture verse at the end of the microphone stand. They were the same verses that I had just preached on in Macedonian. How amazing!
The next morning, Tom and I were treated to a local delicacy for breakfast – hot fish soup! With bread and garlic paste. It was rather nice but you had to forget that it was 9am. We shared another lovely meal with Emil and Vesna later in the day when we drove up into the local mountains. We were near to the village of Vevcani, which in a bid to draw in the tourists has its own local currency! Afterwards, we dropped Tom off at Ohrid's bus station so he could travel on to see other local partners.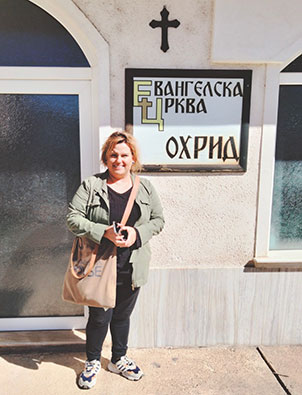 The day after, Emil drove me to Ohrid nearby, where I spent a few hours with a new partner, Anita Dimitrievska. Anita has served in various capacities in the Evangelical Church for over twenty years and currently is the only ordained woman in the denomination. She is the assistant pastor at Ohrid Evangelical Church, involved in leading a women's group, Royal Rangers, is part of the worship team and she preaches once or twice a month. Ohrid is very popular for holidays and during the summer the Sunday service is often filled with tourists. Anita has a heart for reaching out to people and making new connections.
The next day – Saturday – was a busy day. In the morning Emil drove me over to Resen, where I spent time with Dragan and Biljana Manev, the leaders of Resen Evangelical Church. The building, which is also their home, has the main church room on the ground floor, and their Hope Centre on the first floor. Dragan was encouraged to have a team from the UK visit in July, which allowed them to run a children's camp that included English lessons, and to train a local Roma team in puppet ministry for Christmas outreaches to follow.
The local economy in Resen is dependent on apples. There are dozens of small orchards and September to October is harvest time. I saw many tractors and trailers of apples being transported. Sadly, they have lost the Russian market due to sanctions put on Russia, following the country's invasion of Ukraine. Some local growers can only afford to have family members help with picking due to the low prices of apples. To employ labourers as normal would reduce or eliminate any profits they might make. With less work available, the economy of the whole town is affected. Dragan told me apples sell for about 10 MKD each (equivalent to about one euro per kilo). Dragan also reported that depression has become a big issue locally since the pandemic. In a population of 8,000 over one hundred people are suffering from depression, even young people. Please pray for those who are struggling with mental health issues.
Afterward, we shared a lovely meal with Josip and Biljana Pastor from Bitola Evangelical Church, then Josip and Biljana drove me to Bitola. During the drive, I discovered Josip and I are both Tolkien fans and share a love for Lord of the Rings. Josip's favourite character is Tom Bombadil — mine is Gandalf!
Josip dropped me off to spend a few hours with Tefik Musoski, the leader of the Roma Evangelical Church. This was not on the original schedule, but it was a pleasure to see him. That weekend the church was hosting the Roma Bible School, so they had students in one of the upstairs rooms. In the basement Anita and the other women were busy preparing food for over twenty people using an indoor wood burner and a large pan.
Tefik's focus is currently split between leading Bitola Bair Evangelical Church which ministers to the local Roma community and the Gedeon Centre in Prilep, which ministers to the deaf community. Tefik has begun a long-term project to translate the Bible into Macedonian Sign Language. Tefik and Anita's two daughters are deaf, and they are keenly aware of the need for the gospel to be shared within the deaf community in North Macedonia.
Finally, Josip and one of his church members drove me back to Struga. Again, I was pleased to spend time with Josip. Partly, because he had been seriously ill earlier in the year, so to see him in better health was a blessing, and I appreciated him giving me a lift after having had the team from Tom's church with him until a few days earlier. It is very humbling to see the commitment of the believers in North Macedonia and their desire to plant churches and share the gospel in what can be a difficult environment. Most locals identify as Orthodox or Muslim; Protestants are seen being part of a cult.
On the Sunday morning, I packed my case, including various gifts I was given for the TEN staff team. But before I left I joined the 11am church service and enjoyed the worship time led by Emil. I shared a message: 'Who is Jesus?' which Vesna translated for me. Finally, Emil drove me the short distance to Ohrid Airport, and I caught the lunchtime flight back to Luton.
It was great to meet up with all TEN's partners in North Macedonia, even if briefly. My trip included some unexpected changes, but God turned everything out for the best.