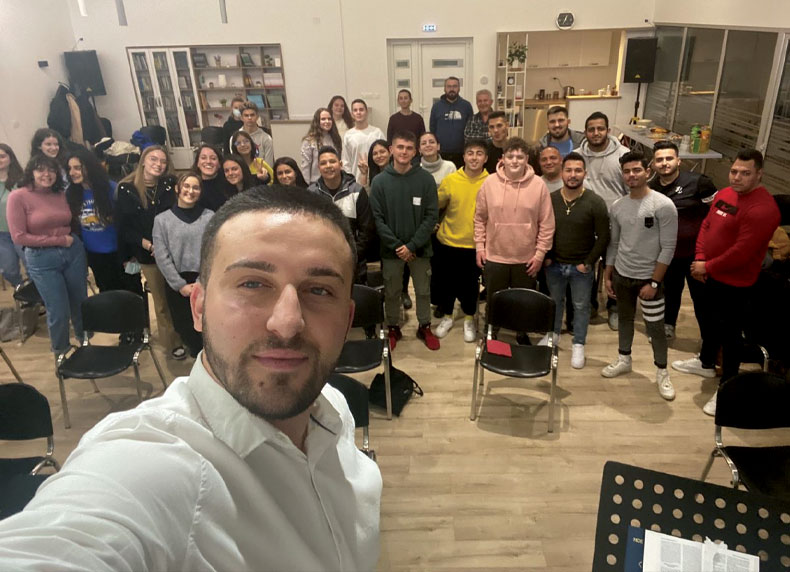 by Ivan Petrov, North Macedonia

I would like to share with you some of the great things God has done in my home church in Shtip and the outreach to Sveti Nikole 17 miles away. Also the new steps of faith I feel God is calling me to take in 2022.
In September 2020 we started to host youth meetings at my home church in Shtip. We are gathering twice a month on Saturdays and explore different topics, such as prayer life, the importance of going to church, how to read the Bible, the Holy Spirit and many more. Most participants are young adults and they are open to talk about Jesus and faith-related matters. 
We organised some youth gatherings with other evangelical churches from Macedonia. We held youth meetings in Shtip, Kochani and in our capital city, Skopje. In December 2021, I was one of the organisers of the special youth event run in Novo Konsko, Gevgelija. I am thankful that God sent us a new generation who are hungry for the gospel.
Another ministry opportunity was to help the small community of Sveti Nikole. This church has around six members and most of them belong to the Roma community. Keep this church in your prayers.
I've spent the last two years at home with my family. I have been serving the church, leading the youth, and going in Sveti Nikole. Whilst this has been a blessing, I feel God is calling me to do more for his Kingdom. That's when I heard about The Journey DTS (Discipleship Training School) from YWAM (Youth With A Mission). It's a six-month outreach and discipleship programme across central Europe.
I am personally excited to learn more from God, His plan for my life and especially for the Balkans, the area where I live. I believe God has great things in store for the next generation and I want to be ready to be used by Him.
Ivan is the son of Pastor Petre Petrov, national leader of the Evangelical Church in North Macedonia.