Food Aid for refugees being unloaded taken from the van
Christian charity leader urges UK church not to give up praying and supporting Ukrainian refugees as apathy sets in.
The leader of Bristol-based Christian charity Transform Europe Network (TEN) has appealed to UK Churches not to give up praying for, and supporting Ukrainian refugees, having just returned from a trip to Moldova.
James Vaughton, CEO of TEN has been visiting partner churches and charities providing practical support for women and children fleeing the war-torn country, many arriving in Moldova with just the clothes they wear.
James said: "I'm very conscious that here in the UK, we're seeing diesel rising to £2 a litre and inflation already over 9-per-cent. But I've just returned from Moldova where their citizens have been open-hearted, compassionate, self-less and sacrificial to refugees, at a time when their own inflation rate is 30-per-cent!
"Moldovans are really struggling to make ends meet. The last thing Ukrainian refugees, and the churches and charities supporting them needs right now, is for the UK church to start to reduce their prayer and financial interest. I urge all church leaders to ensure that opportunities to offer Christian compassion and prayer for Ukrainians is kept at the top of our church's prayer agenda on a weekly basis."
Amongst others, Mr Vaughton visited TEN's long-established partner 'Beginning of Life' (BoL) in the nation's capital, Chisinau. There, Ukrainian refugees are integrated into the charity's programmes, and offered a wide range of support, including:-
Trauma counselling
Sanitary packs for families
Food parcels
Help with completing asylum paperwork, or onward transmission to another country
Family support programmes for young people
Training in new skills to produce toys and goods to be sold
A welcome to church services
BoL has a developed skills-training programme, enabling locals to learn how to make high-quality toys and gifts to be sold locally, across Moldova and internationally. Mr Vaughton said the charity was integrating refugees into its programme.
"At a time when it would be very easy for BoL to focus solely on Moldovan citizens own needs and workforce skills, it has deliberately included refugees into their 'Art Story' programme," he explained. "Over time, these women and girls develop skills which they can later use to make money, and start to provide for themselves. The quality of goods produced is high-end, and sold both in Moldova and overseas."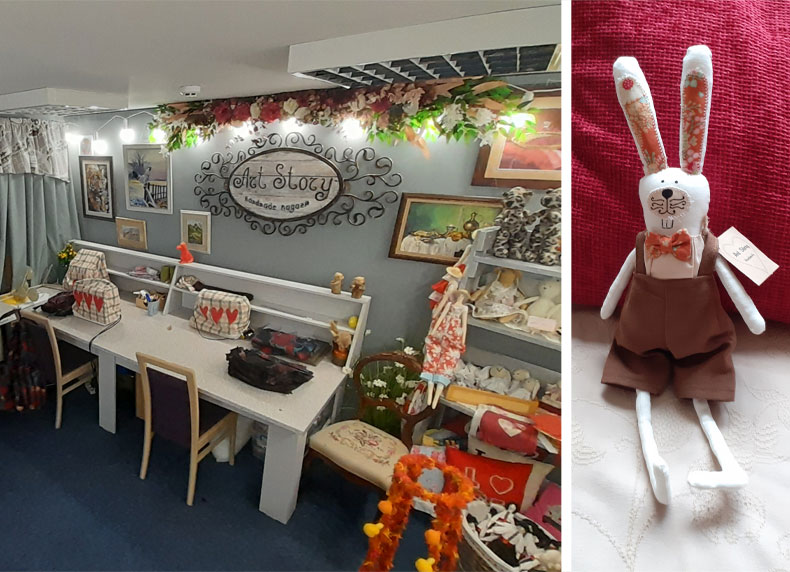 But Mr Vaughton warns that volunteers and charity workers are exhausted by the relentless flow of refugees, and the need. "With no end in sight, all our partners across eastern Europe are focussed now on the middle and long-term vision of supporting refugees as part of their ministries. Despite their exhaustion, they know that even if the war ended tomorrow, it would be months, if not years before refugees could return."
"For many, their homes have been destroyed, as have schools and local facilities. TEN partners, and all Christian charities working in eastern Europe, are going to need the long-term, committed support of UK Christians if they are to continue to show Christian compassion and the love of God."
Since the start of the war, TEN has raised over £130,000 to aid Ukrainian refugees through its partners.
Like many charities, TEN are now trying to work out how to support partners for the medium term. TEN is talking to partners in Moldova, Romania and Bulgaria about how they can strategically support refugees as the war grinds on, and there is a need to move beyond emergency aid to support that builds resilience and sustainability.
One way in which churches can help is to join TEN's 30th anniversary Harvest For The Hungry (HFTH) food parcel appeal. Since 1992, the charity has sent hundreds of thousands of parcels and hot meals, worth over £2.5million to partner charities and churches in eastern Europe. This year, HFTH will also support Ukrainian refugees.
For further information, visit www.harvestforthehungry.org