Vjeko Mrsic, Good News Church, Split, Croatia
As for many years, this year we have witnessed God's blessings through camp ministry. This summer, we started with the weekend for married couples.
It was amazing to see renewed and healed marriages. Some campers wrote letters of appreciation to their parents, after many years of broken relationships with them.
On Kids' Kamp, we had the pleasure of having a few kids from non-believing parents and they were the first ones to come up front for prayer and to give their lives to Jesus.
We can also testify to seeing parents who used to come to camp many years ago, bring their children to this year's camp; a second generation of kids being reached at Camp Fokus. Thank you for your prayers and investment in the lives of people in Croatia.
David Telpiz, Gotesti Baptist Church, Moldova
Summer camps are such a blessing. Every year we have lots and lots of children and teenagers to share the gospel with.
This year I had the pleasure of being involved in a camp every single week, and I found it amazing. Seeing that much work being done in the Name of Jesus—leaders serving, children and teenagers giving their life to Christ, having fun together, inviting them after the camp to youth meetings or Sunday school, and trying to connect with each of them for a long-term relationship.
I think it is safe to say that through summer camps we have young people to work with throughout the year! I have to say it is hard and time-consuming trying to run one but seeing the happiness on their faces and getting more people to Christ is totally worth it.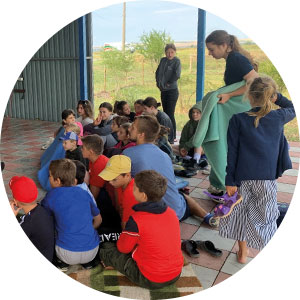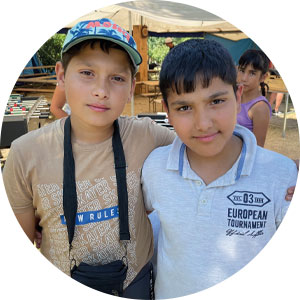 Plamen Borisov, Shalom Church, Sevlievo, Bulgaria
We sent two young people to a camp in Dobromirka, run by Mission Possible Bulgaria.
The theme was 'Trusting in God' and I was invited to speak about how to trust God when life is difficult. We also sent children to a camp in Kavlak to learn about 'David – From Shepherd to King.' The children explored different moments in David's life, such as courage, revenge, forgiveness, and friendship. This was the first time they went to camp and they were encouraged to go next year.
At each camp, we had a volunteer from our church on team. We organised travel for all the young people. TEN provided half the funds through match funding. We as a church, including parents of the young campers have been praying for funding for the camps, due to huge inflation in Bulgaria. So, this really is an answer to prayer.
Rachel Lee, Elim Keynsham Church and TEN Ambassador
Three years have passed since CASA Grace in Oradea, Romania hosted summer camps due to the pandemic. The CASA team worked alongside a UK team, mainly from partner church, Elim Keynsham to host thirty children and nineteen teenagers.
Rachel Lee reports: "It is a remarkable thing to see people from different backgrounds; different gifting and experiences unite together, and see God move in amazing ways. Besides the games, sports, and splatting team leaders with wet sponges we were able to share the wonderful gospel of our Lord Jesus Christ.
"One young girl many of us had been praying for had been very challenging on previous camps. This year she was so different, so interested in hearing about God's truth and we heard she was now going to church and was baptised.
"Neli, of the CASA team writes, 'This camp means a lot for many of the children. They had so much fun and they felt loved. Especially the children who came from dysfunctional families of which there were many. They had the opportunity to hear about the one who loves them the most, our Great Heavenly Father, who is able to take care of them.'"