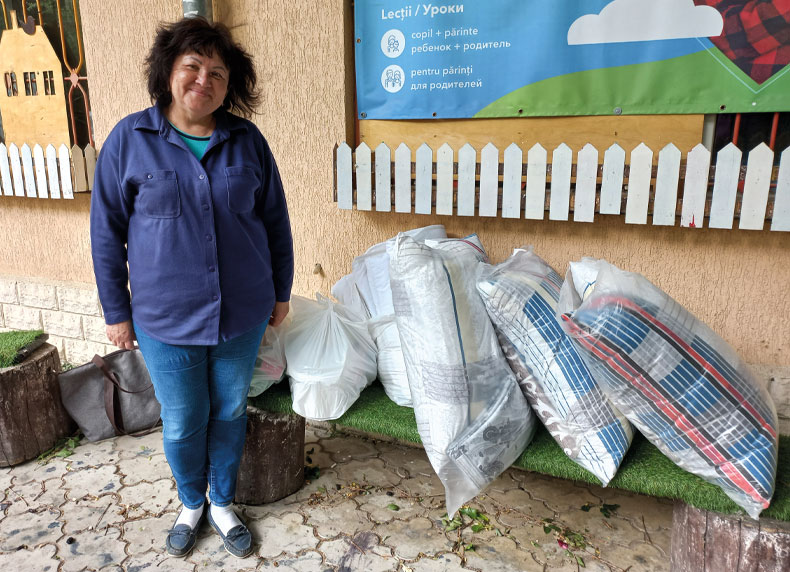 Local assistance providing food, clothing and supplies
Since 24 February 2022, when the full-scale war in Ukraine started, Moldova found itself again in the midst of a burning region. Moldovans had to deal with unprecedented and catastrophic crisis caused by this conflict, adding to all the damage caused by two years of the pandemic.
During the last ten months, 700,000 people have fled from Ukraine to Moldova. Over 85,000 decided to stay in our country, adding almost 4% to Moldova's population. For the first time we needed to address the biggest crisis of refugees combined with economic and energy shortages.
Moldovans opened their houses and hearts for people, mostly women and children, who lost everything. The Beginning of Life (BoL) team, like many Moldovan churches and organisations, has actively engaged in addressing the refugee crisis. Only by our team, have over 15,000 Ukrainians been holistically supported in food, hygiene supplies, transportation, accommodation, clothing and medical services.
Knowing the traumatising nature of this situation, we have opened all our programmes and centres for women and children from Ukraine. This way, young mothers and their children can attend early child education classes and learn how to continue raising their children in this 'new normal'. Children and teenagers, along with adults, are finding healing and restoration through our therapy centre.
Our teenager's leadership group reaches out to teenagers within our Urban Youth Centre and those in the refugee camps, who are a big part of the refugee influx. Together with Moldovan teenagers, many of them come weekly to outreach programmes and find hope and healthy growth in the good news of Jesus.
This significant increase of people in need, whom BoL serves on a regular basis, require a suitable facility, and together with TEN we work now on having a new space for young people, children and women who can find a safe and welcoming place to bring about acceptance and healing.
I met a woman a week ago from Donetsk, and she said to me: "Leaving my home, ruined by bombs, I thought my life is ruined, but after months spent with you here, I can say God exists and he sent you my way. When I hear how my children laugh again, I feel hope and desire to live. Thank you for all you do for my family". Every smile, hug and warm word from these people proves that God invited us to be his instrument of hope.
Brothers and sisters, we are so grateful for the support you have offered us both in prayers and resources. The situation as you see is getting harder, as we are now in this winter season. So please pray for the families who are suffering extreme trauma and need. Pray for our team who serve both Moldovan and Ukrainian young people and their mothers daily. Pray for peace in this new year.
Pray for the emotional, social and spiritual healing of refugee women and young people who attend our art therapy programme.
Pray for the leaders and their teams to be trained in therapy and healing for young people this year.
Pray for the 150 Moldovan women and young people as well as several hundred refugees who heard the gospel to take the firm decision to follow Christ.
By Valentin Kirgan, Coordinator of Refugee Crisis Response Programme, BoL, Moldova